8 November 2015
Americans Eating Better
Americans are reportedly eating better: more like the French. But first, my cheerful new kitchen floor mat.
Impossible to resist. In Walmart, on my way from the catfood to the wasp spray I made a serendipitous discovery. If can't live in a little French town, at least I can have a colorful representation of this much-envied lifestyle on my kitchen floor. (And the mat's thick rubberiness is so comfortable to my feet and legs.)
Of course, I have a main quibble with the mat: the avoirdupois of all the bakers. The French bakers I remember were of the slim to portly size, but none as fat as depicted here.
The Café de Paris on the right advertises its fresh roasted coffee in English? Pourquoi?
The emphasis nonetheless is on good eating and good living. The border around the mat with its corner grape clusters reminds: Live Well | Love Much | Laugh Often. Note that the bistro chefs on the left, having arrived (one on his scooter), are enjoying a cup of coffee and a friendly chat before beginning lunch preparations.
La Boulangerie's windows show the morning's fresh baked breads, and on the right the pâtisseries, but don't miss that in front of the bread window the vegetable seller has set up her table. She has already unloaded baskets of peaches and the cabbages and no doubt has gone back to her van for the next load of her just-harvested garden produce.
Below the pâtisseries the flower seller has her tall cans ready for the blossoms. That red double doorway on the left marked number 3 is surely the entrance to the bookstore.
All of which brings me to the topic of today's Nouvelles: that Americans are showing a noticeable shift away from processed industrial food to eating healthier fresh.
This report came in a New York Times article that was in fact a lecture to the food industry which is seeing revenues for their processed foods shrinking. The message: food companies are going to have to start offering food with fewer chemicals and additives and less processing — and more real ingredients.
Excerpts from the article A Seismic Shift in How People Eat:
There is a consumer shift at play that calls into question the reason packaged foods exist. There was a time when consumers used to walk through every aisle of the grocery store, but today much of their time is being spent in the perimeter of the store with its vast collection of fresh products — raw produce, meats, bakery items and fresh prepared foods.
Sales of fresh prepared foods have grown nearly 30 percent since 2009, while sales of center-of-store packaged goods have started to fall. Sales of raw fruits and vegetables are also growing — among children and young adults, per capita consumption of vegetables is up 10 percent over the past five years.
For consumers today, packaged goods conjure up the image of foods stripped of their nutrition and loaded with sugar. Also, decades of deceptive marketing, corporate-sponsored research and government lobbying have left large food companies with brands that are fast becoming liabilities. According to one recent survey, 42 percent of millennial consumers, ages 20 to 37, don't trust large food companies, compared with 18 percent of non-millennial consumers who feel that way.
As my floor mat says: Live Well | Love Much | Laugh Often
image: Better Homes and Gardens Live Well Love Much Luxury Chef Comfort Anti-Fatigue Kitchen Mat in Anne Barone's kitchen.
be chic, stay slim — Anne Barone
---
The latest Chic & Slim publication is available
in Print, Kindle, and Kobo
If you need inspiration for a workable organization for your closet — or if you want to get the fat food out of your pantry and stock the slim food — or if you just want to be a lot smarter about everything, you might find ideas in the new Chic & Slim book.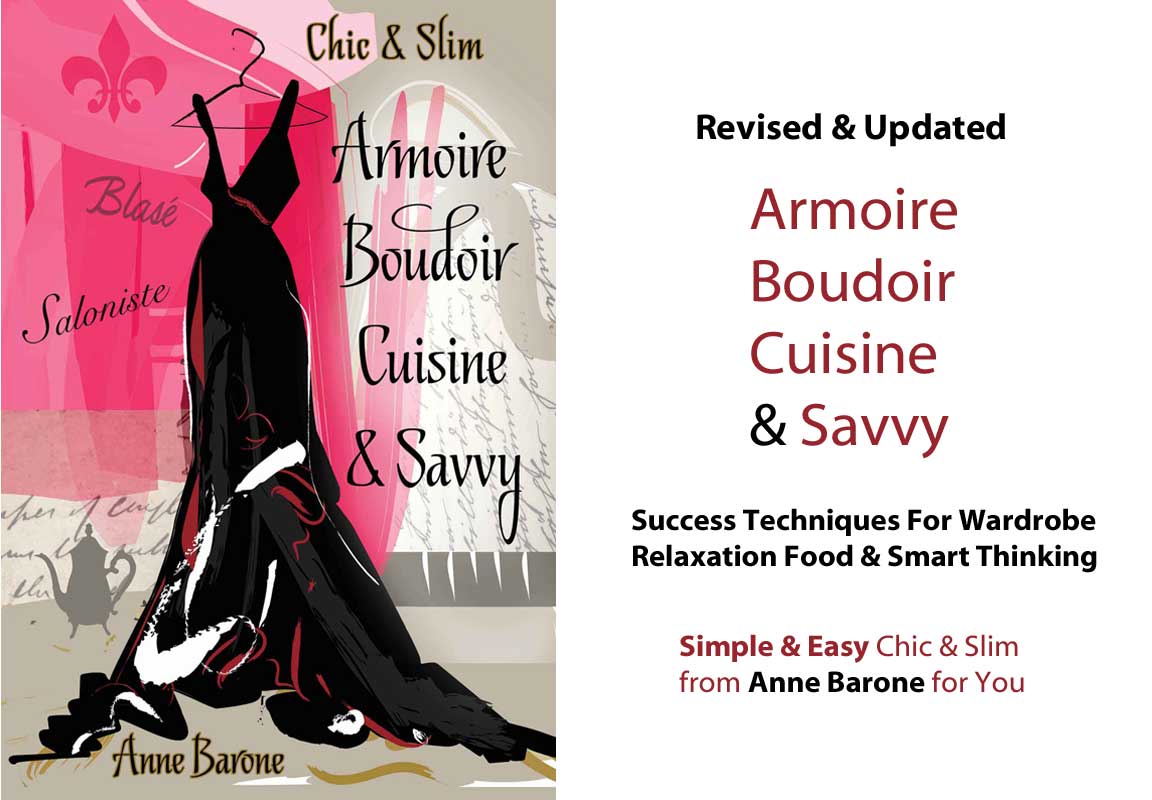 You can read samples of Chic & Slim Armoire Boudoir Cuisine & Savvy at these links: