|| 9 november 2014
Autumn Colors & Flavors
Anne shares her joy in autumn pleasures and tries a new recipe.
Autumn has so many charms. The rich colors and flavors that crown the end of the growing season can bring much pleasure.
Since childhood, I have loved persimmons — as much for vibrant color as for taste. For several years my son has sent me persimmons from a friend's farm. Arranged to complete their ripening with apples in my mother's pewter bowl, they give as much pleasure to the eye as they will give to the palate when eaten.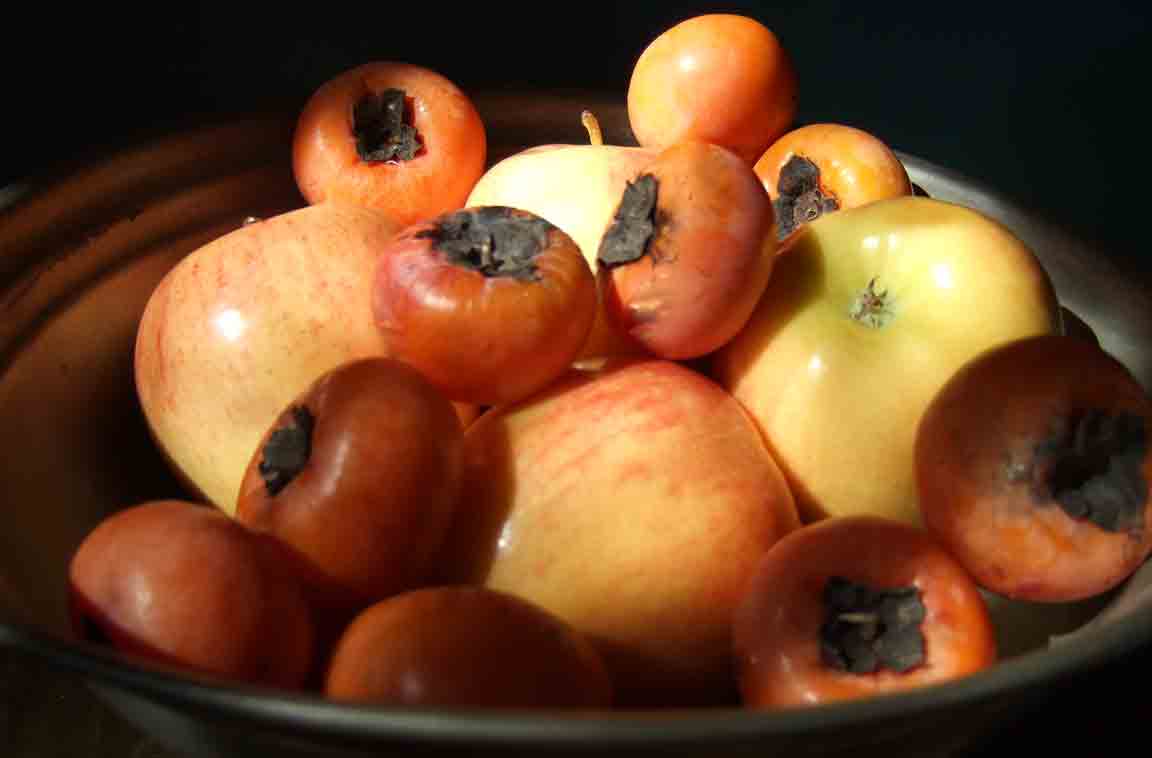 Butternut Sqash and Lentil Salad
Last night I tried a new recipe that caught my fancy in Penzeys Spices magazine Thanksgiving 2014 issue. I didn't think I would ever find a butternut squash recipe I liked better than Uncle Phil's squash recipe I included in Chic & Slim Encore, but Kelly Frahm's recipe for Roasted Butternut Squash and Lentil Salad is as good — and prettier than Uncle Phil's.
I hate peeling and cubing butternut squash so I split the squash in half and baked it about 30 minutes cut side down in my cast iron skillet, then turned it over sprinkled on cumin and paprika and olive oil and continued baking till tender.
To serve, I topped the squash with warm cooked lentils and served butter lettuce leaves dressed with olive oil and balsamic vinegar (I was out of red wine vinegar the recipe called for) and crumbled feta as salad.
The recipe says you also may use pumpkin in place of squash. I may try the recipe using that Thanksgiving pumpkin with which the kittens declined to pose.
If you aren't a subscriber to the Penzeys Spices magazine, and enjoy cooking with spices, you might like to sign on. Penzeys spices are excellent quality and price, and it is fun to read the (free) magazine that is also a product catalog and learn how their customers are using spices.The magazine articles also appear on the Penzeys website.
Kelly Frahm's story of celebrating Thanksgiving in Africa brought back similar memories. Like Kelly, I remember the problem of trying to locate celery. And just as I was resigned to making the dressing/stuffing without it, another American family's cook showed up at the door and handed me six stalks. What a gift! Amazing how happy a small amount of a scarce item can make you when it is an ingredient in a favorite holiday recipe. And how much you appreciate the generosity of thoughtful friends when you are far from your homeland and family.
Kelly Frahm's butternut squash and lentil salad recipe.
be chic, stay slim — Anne Barone
salad image courtesy of penzeys spices