|| 27 July 2015
How French Women Move & Speak (updated)
Chic & Slim reader Jane emailed with more suggestions for good films to watch to see chic French women's "Frenchness." Jane wrote:
Hi Anne, Longtime reader of your books and site! You really do have the right idea, and I appreciate your help in showing me the French way. I, too, enjoy watching the French films, more for the "Frenchness" of the characters and scenery than the plot....although their plots do have more depth than ours. Three of my latest favorites are Haute Cuisine (Mitterand's chef), Girl on a Bicycle and Barbecue. All prove everything you say, not that we needed proof ;) Enjoy. — Cheers, Jane
|| 26 July 2015
How French Women Move & Speak
Chic & Slim readers often ask for recommendations of films they can watch to see how French women walk, dress, and interact with others. Tara in Austin recently emailed a recommendation for The Missing. She included comments about the French women in the episodes. Tara wrote:
Bonjour Anne, I'm watching The Missing, a program on Amazon Instant Video. It's terribly sad; an English couple goes on vacation with their young son to France and he is kidnapped.
I've watched half of the eight episodes and It's fascinating to watch how the French women move and speak. There is a definite difference in how they carry themselves. There are a variety of body types, though all generally more slender than one might find here in Texas.
I'm also fascinated by the politeness. There is one scene where an older French police detective is releasing a suspect. He knows the suspect has done horrible things, though not likely committed this kidnapping. Before the suspect leaves, he still says, "Au revoir." Au revoir! As if they'd just bought each other scones and tea!
I thought I'd pass it on. Any viewer ought to use the closed captioning. They do not translate all the French, but it's a British show, so it's mostly in English. There are lessons to be gleaned for anyone wishing to comport themselves in a more, well, civilized way. ;) — Tara in Austin
be chic, stay slim — Anne Barone
---
Armoire Boudoir Cuisine & Savvy
If you need inspiration for a workable organization for your closet — or if you want to get the fat food out of your pantry and stock the slim food — or if you just want to be a lot smarter about everything, you might find ideas in the new Chic & Slim book.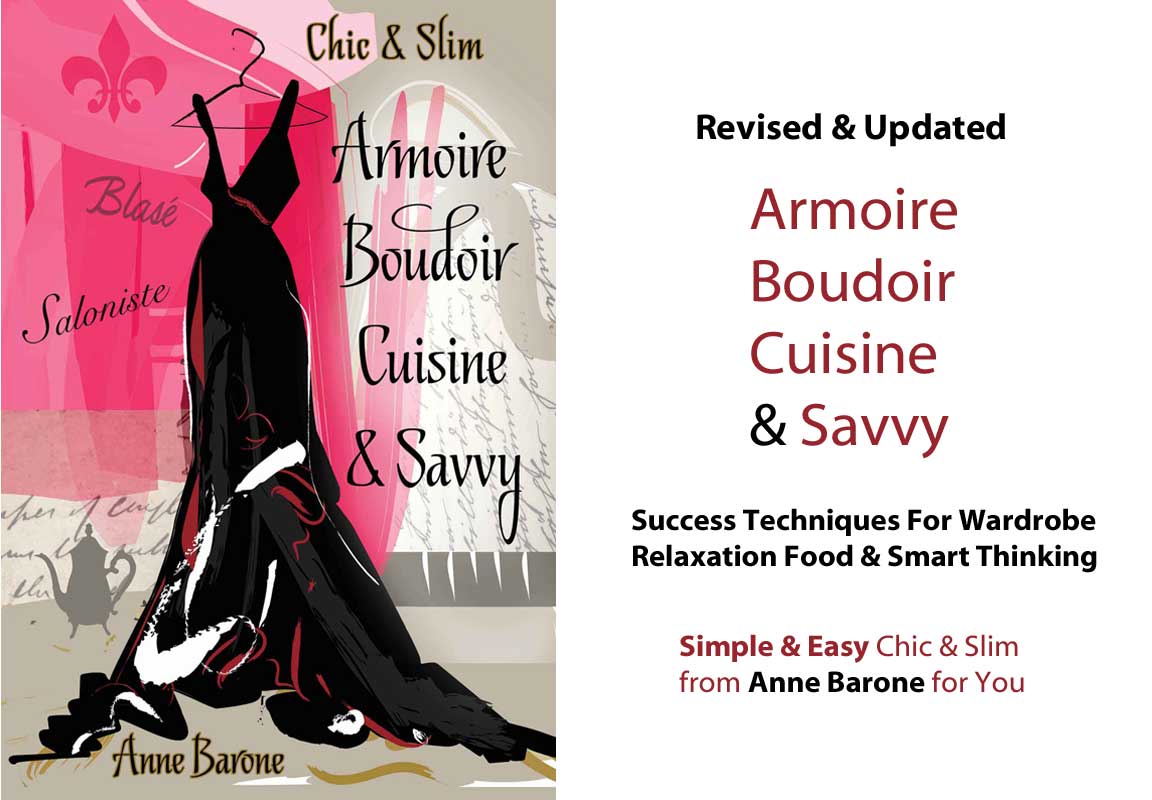 You can read samples of Chic & Slim Armoire Boudoir Cuisine & Savvy at these links: