8 October 2015
More Style Ideas for Problem Feet
Sunday's Nouvelles prompted several emails about footwear. One from Donna includes a couple of tips for finding style ideas for special needs feet. I especially like her reminder about low-heel shoes made more elegant and feminine by tops with cut-outs, fleurs-de-lis, and t-straps. Donna wrote:
Hello Anne, I just read your report on Derbies. It could not have come at a better time.
Lately, I've been reading and re-reading my collection of vintage magazines. I usually do this in the fall when I am looking for style ideas. One thing that has fascinated me this time around is the great shoe styles offered to women in the 60's. Oftentimes, women wore lower heeled shoes with pretty decorative tops, such as cut-outs, fleurs-de-lis, and t-straps. The heels were not high but were square and "chunky" or lower kitten heels. Much more wearable than today's killer stilettos.
For me, I cannot wear a heel over 2 inches and opt for the kittens and the other styles when I find them. But this weekend, I also thought of something else: while re-watching "You've Got Mail", I noticed that Meg Ryan's character Kathleen Kelly, wears a bit masculine-looking chunky "Gillies" and Derbie styles. I recall that in the early 90's, it was stylish to wear more substantial shoes with pants as well as skirts and dresses.
Because I am having some minor foot issues, I decided that this fall, I am going to opt for more comfortable footwear and so I am searching for the late 60's footwear I have admired in my vintage magazines as well as Kathleen Kelly-inspired shoes with more solid footing.
Derbies may work for me too but I would only wear them with pants I think. I prefer a more feminine shoe for skirts and dresses.
Thank you for you great blog which I have followed for over ten years. I enjoy hearing about your Provence on the Plains. — Donna
The Sunday Nouvelles about Derbies can be read Here . . .
be chic, stay slim — Anne Barone
---
The latest Chic & Slim publication is available
in Print, Kindle, and Kobo
If you need inspiration for a workable organization for your closet — or if you want to get the fat food out of your pantry and stock the slim food — or if you just want to be a lot smarter about everything, you might find ideas in the new Chic & Slim book.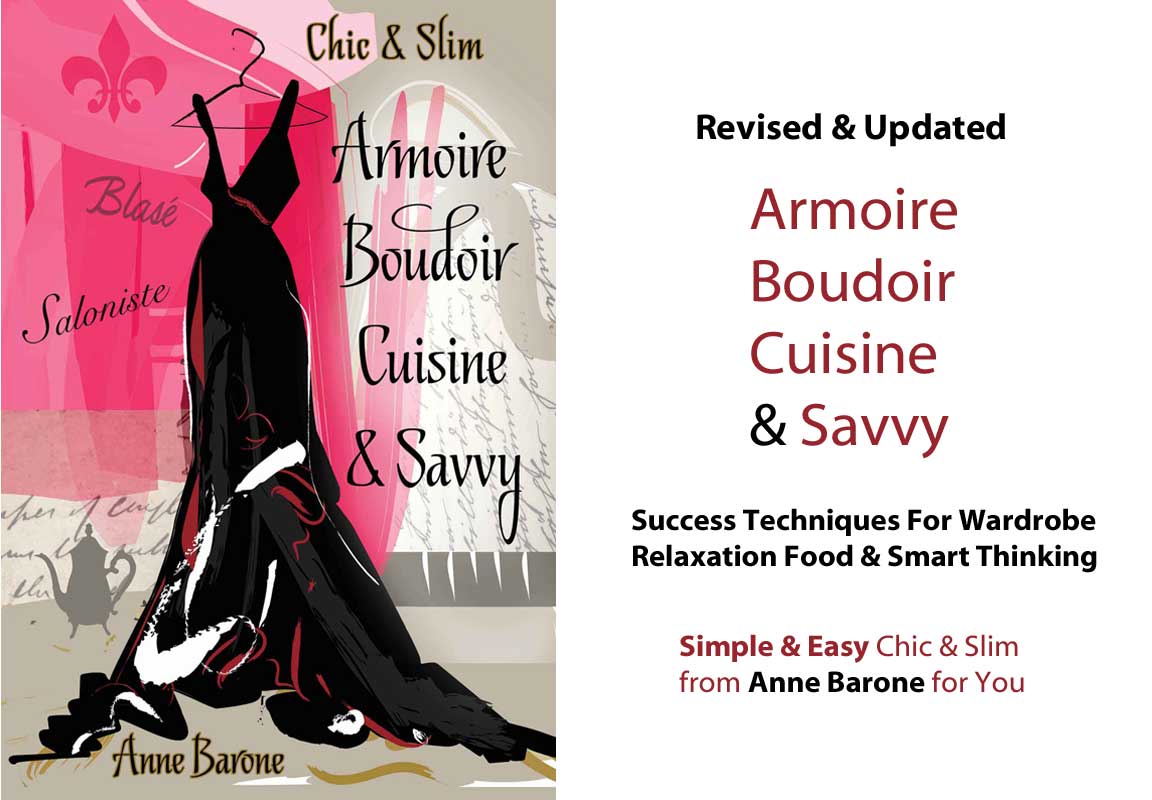 ou can read samples of Chic & Slim Armoire Boudoir Cuisine & Savvy at these links: