|| 14 June 2015
Karrapa's Chic & Sophisticated Women
When I set out to design the cover for Chic & SlimToujours: Aging Beautifully Like Those Chic French Women, I searched for an image that exemplified a chic French woman of certain age. I found the perfect example.
The artist who created the image was Karrapa, the professional name of a Berlin-based designer Yordanka Poleganova. With Chanel style suit and beret in red, black and white (Chic & Slim colors), the image was perfect.
In fact, looking over Karrapa's portfolio, I found images that were perfect for covers of all the Chic & Slim books — including the most recent Armoire Boudoir Cuisine & Savvy.
So why isn't there a Karrapa image on ABC&S as there are on the other five books? I'll explain in a moment.
Below is a screen shot the page that appeared when I typed in Yordanka Poleganova in the Google Images search box. Look at the second image in the top left frame. There is the chic woman image that I used for Toujours. And in the second row the left most image is one that was my choice for ABC&S.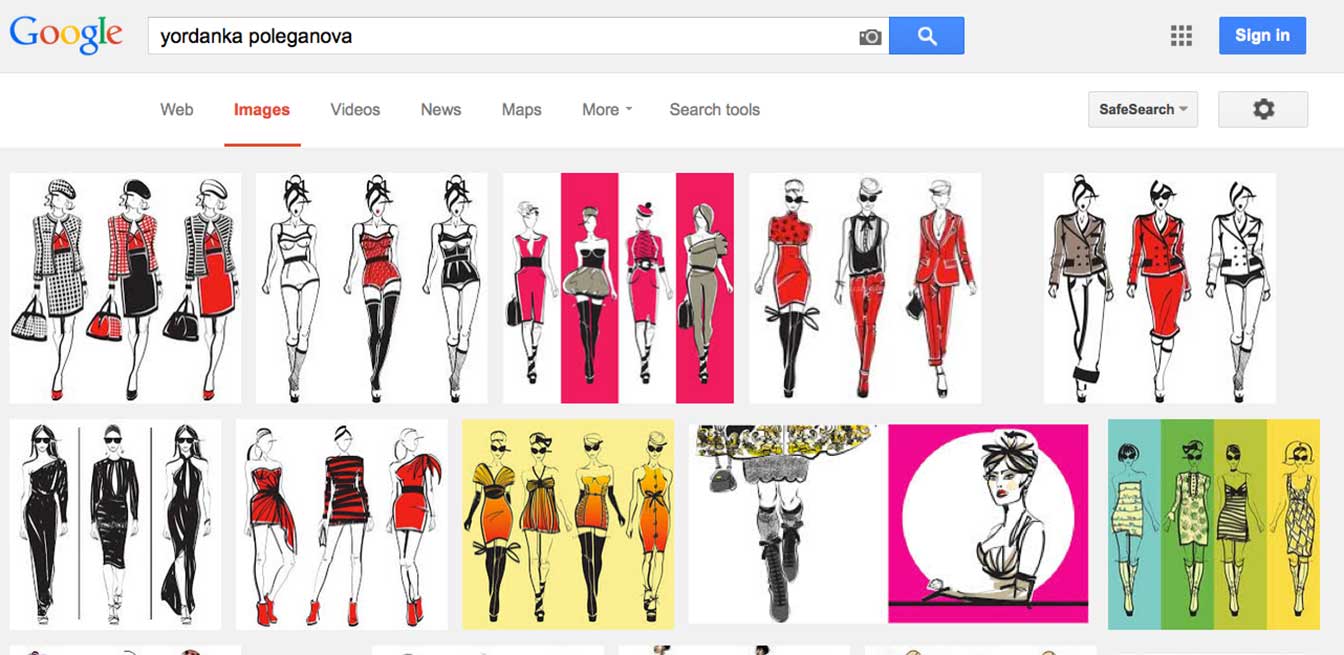 I beleived that I had bought the licenses for all the images I had chosen for all six books. Unfortunately, when I set out to finalize the ABC&S cover, I discovered to my dismay that I had neglected to download the actual image. I had downloaded the sample, but somehow neglected to download the actual licensed image.
In the meantime, iStockphoto, the site that had brokered Karrapa's images had sold to Getty Images. The money in my iStockphoto account had "expired." And Karrapa had become so successful that if you wanted her designs you needed to approach her agent. A sure indication that her images had moved far beyond my cover image budget.
Karrapa's images have now appeared in the Wall Street Journal, and in other major publications — in ads for Kate Spade and Dolce&Gabbana. You can see samples below. You can find more on the Pinterest page for Yordanka Poleganova.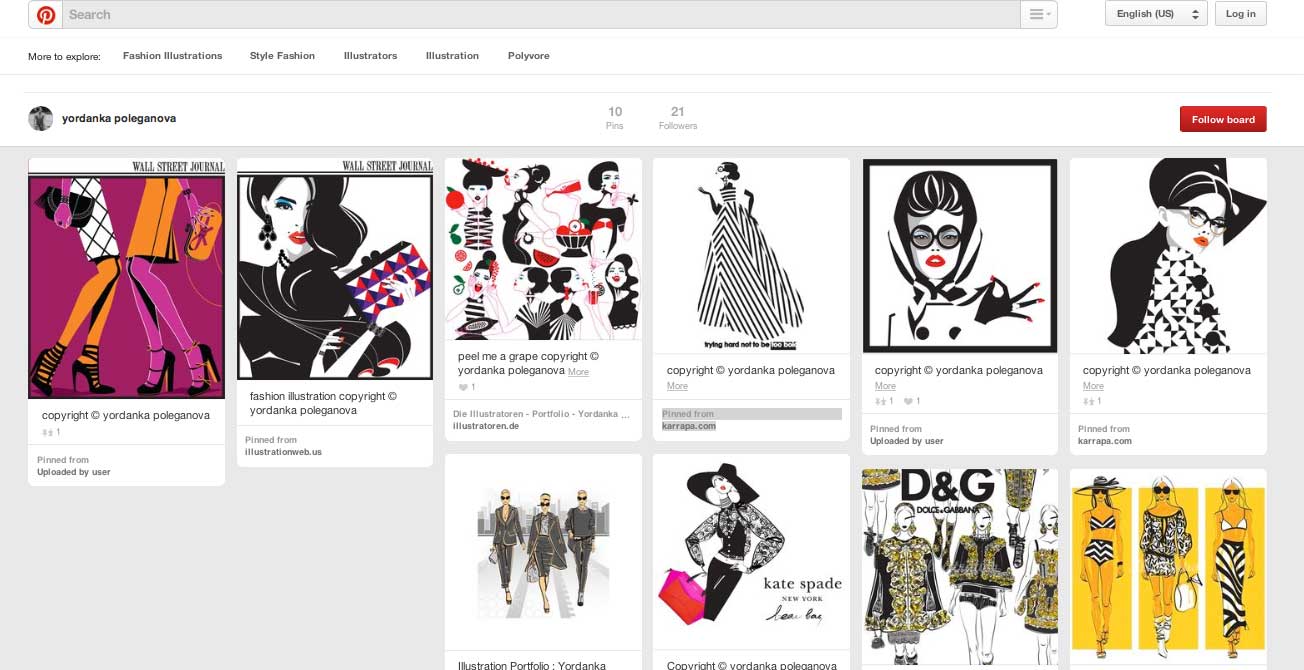 Dash Magazine called Yordanka Poleganova's images "striking," and wrote:
Her playfulness with colour and colouring techniques are characteristics of her style. Yordanka's style might be best described as feminine and sophisticated."
Dash Magazine pinpointed exactly what appealed to me about Karrapa's images. Of course, the colors. Her images reminded me of the work of French fashion illustrator René Gruau, one of my favorite 20th century fashion illustrators, who also frequently created striking illustrations in red, black and white. And, of course, the qualities of femininity and sophistication so typical of chic French women.
I also liked that many woman in Karrapa's images weren't just posing. They seemed to be in motion: "on their way" to the destination they had chosen for themselves. And they seemed very "bien dans sa peau" at ease with oneself.
I am disappointed that my error prevented me from also using a Karrapa image for ABC&S, and that her success meant that the image I had chosen was no longer available when I discovered my error. But I am delighted for Yordanka Poleganova's much-deserved career success. Congratulations!
Fashion photography is wonderful, but I have always loved fashion illustrations. Especially those done by Erté and René Gruau — and by another early 20th century illustrator, a woman whose work I shall tell you about in future Chic & Slim writing. I wish Karrapa / Yordanka Poleganova even more success in the future. And, of course, her wonderful images will remain on the covers of five of the six Chic & Slim books. I am so glad that I discovered her work.
And I am happy to have discovered the work of Cindy Hughes whose illustration of the chic black dress on hanger worked out well when I had to revise my original design plans for Armoire Boudoir Cuisine & Savvy.
be chic, stay slim — Anne Barone