28 February 2016
Kristin Scott Thomas' Marie France Interview
The French beauty magazine Marie France calls her the "most French of the British actresses." I considered her sufficiently French to include her in the Chic French Women of Certain Age that I featured in Chic & Slim Toujours. Kristin Scott Thomas recently gave an interview to Marie France in her capacity as the current "face" of Lierac cosmetics. KST spoke on the topic of French chic — with some comments on English fashion faux pas.
I was alerted about this interview in an email from Jane in Canada (Merci, Jane) who sent a link to the Daily Mail article on the KST interview titled Fake tan and short skirts — English women are VULGAR, blasts Hollywood star Kristin Scott Thomas
As usual, Mail sensationalizes. The interview, conducted and reported in French — which KST speaks very well — is done with more perception and humor than the Mail headline suggests.
On the English overuse of tanning products, KST says: l'été, tout le monde est orange ! In summer, everyone is orange !
Asked Qu'est-ce qu'une Française ne fera jamais ? What would a chic French woman never do, KST jokes: Be dead drunk on Saturday in mini-skirt in November ? (Note the question mark.) Then she gives a more serious answer explaining how English women will change from their day clothes into something dressier for going out in the evening. But a chic French woman would dress in a outfit that would take her all day through an evening out.
Read the Marie France KST interview (French).
image: A Lierac ad for anti-age products featuring Kristin Scott Thomas courtesty Lierac cosmetics. La beauté n'a pas d'âge. Beauty does not have an age.
be chic, stay slim — Anne Barone
---
Armoire Boudoir Cuisine & Savvy
If you need inspiration for a workable organization for your closet — or if you want to get the fat food out of your pantry and stock the slim food — or if you just want to be a lot smarter about everything, you might find ideas in the new Chic & Slim book.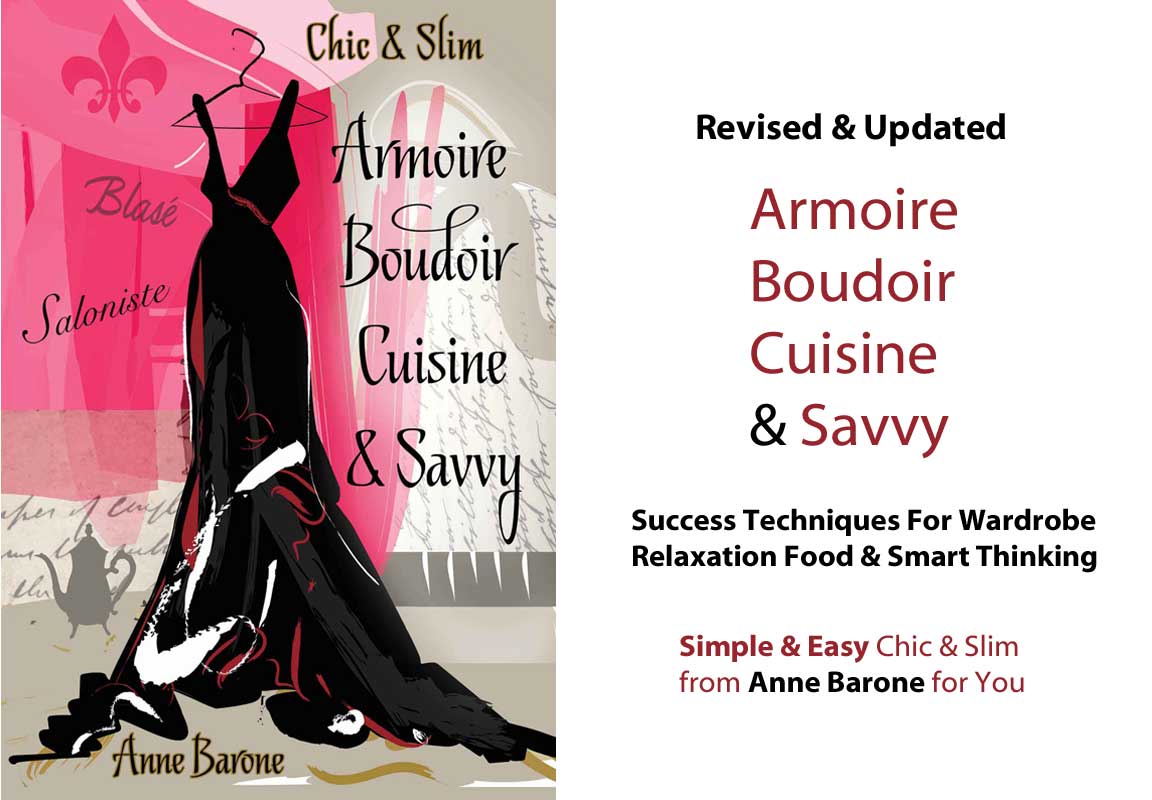 You can read samples of Chic & Slim Armoire Boudoir Cuisine & Savvy at these links: