|| 2 August 2015
More Ségolène
Things are about the same here in Provence-sur-la-Prairie. The 6-foot boa constrictor is still at large. The mosquitoes are still carrying West Nile Virus.
I am not that worried about the boa constrictor. Having survived three years in West Africa with numerous poisonous black mambas and green vipers, the latter which have a nasty habit of hanging out in the trees and then dropping down and biting you, I am not too worried about a pet boa constrictor somewhere on the other side of a river and a busy 4-lane highway.
I am far more concerned about the virus-carrying mosquitoes. I do not want — even a mild case — of West Nile Virus again. I have updated my mosquito baits.
When I last wrote about my (inspired by a recipe invented by some scientists in Mali) homemade mosquito-killing potion, I was mixing blackberry wine, crushed pineapple and boric acid powder. Any mosquitoes I spotted lately that have slipped into my house seem to have drunk their death of my cocktail of cheap red wine, boric acid powder and just a smidgen of orange marmalade (I didn't have any crushed pineapple on hand.) Placing small containers of this mixture in the various rooms where I have seen (or heard the buzz of) mosquitoes has done the trick.
Segolene Royal
So what about chic French certain age Ségolène Royal? What is she doing these days?
image: Ségolène Royal via Mikani/Wikipedia
My current favorite writer on matters French Elaine Sciolino's recent New York Times profile of Ségolène Royal brings us up to date. Now that French president François Hollande is no longer affiliated with his ultra-jealous former partner Valerie Trierweiler, the way was clear for Ségolène Royal to return to the government. In addition to her role as Minister for Ecology, Sustainable Development and Energy, Ségolène Royal has been acting as unofficial vice-president — and more and more, as unofficial first lady.
You can read Elaine Sciolino's profile of Ségolène Royal on the New York Times.
be chic, stay slim — Anne Barone
---
The latest Chic & Slim publication is available
in Print, Kindle, and Kobo
If you need inspiration for a workable organization for your closet — or if you want to get the fat food out of your pantry and stock the slim food — or if you just want to be a lot smarter about everything, you might find ideas in the new Chic & Slim book.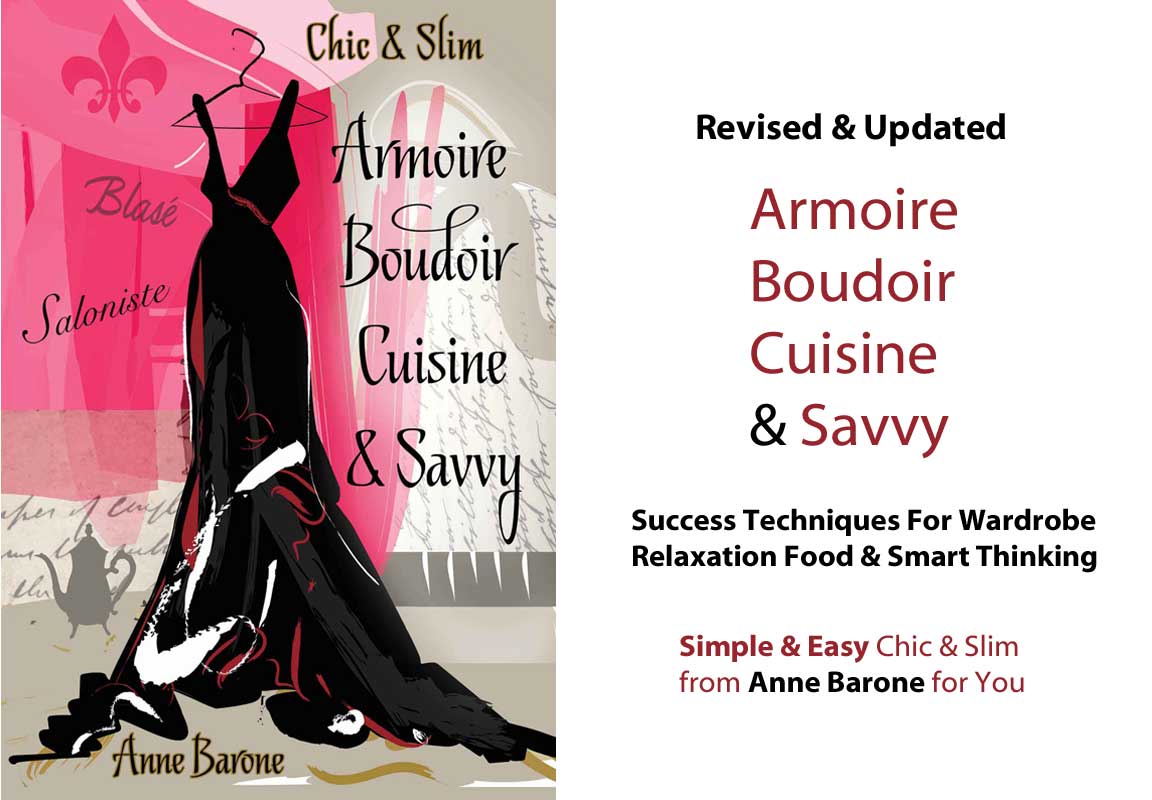 You can read samples of Chic & Slim Armoire Boudoir Cuisine & Savvy at these links: