12 November 2015
Autumn Days And Ruby Reds
These mild autumn days have been perfect for working outdoors. I have been cleaning out flower beds, trimming trees and shrubs, mowing (hopefully for the last time of the season) edging.
Wednesday morning, Veteran's Day, I put out the flag and was admiring the results of all my hard work when I noticed that one of my cats had left a dead rat in the center of the sidewalk to my front steps. (Unfortunately we have a hoarder's house on the street south of chez moi. But if rats set feet on my property, with my cats on alert, these furry creatures are DOA.)
Nonetheless, a dead rat on the entrance walkway is not chic.
The cats had to be thanked and then the rat had to be removed and buried. And bricks placed on the dirt. Not as a headstone. Rather to keep my little resident possum from digging up the rat. Pogo has disgusting ideas about what constitutes dinner.
Texas Ruby Reds Are In The Markets
A devotee of Texas Ruby Red grapefruit, I always look forward to each new crop. So I was excited when I discovered these red-pulped grapefruit grown in the Rio Grande Valley were in the markets.
Ruby Red grapefruit were developed here in Texas. Those grown in the Rio Grande Valley have a rich attractive pulp color and a sweetness that I enjoy very much.
When I was living in that condo in Corpus Christi and writing the first two Chic & Slim books I had an opportunity to taste Ruby Reds fresh from the tree.
A neighbor who lived on my floor, a lover of fresh fruit, had lived many years in the grapefruit-growing area of the Rio Grande Valley. On her return trip from checking on some property she owned there, she stopped at a grapefruit farm that allowed buyers to pick their own fruit.
Later that afternoon, my neighbor knocked on my door and presented me with two large Ruby Red grapefruit that had only been off the tree a little more than two hours. Wonderful.
But I find when I buy one of those big 15-pound bags of the Texas Ruby Reds and store them in my unheated storage apartment, the taste and sweetness improves with each grapefruit I eat. Wonderful too.
And if you are wondering why this citrus fruit is called GRAPEfruit, it is because it grows in clusters on the tree. All these years of eating grapefruit, and I never knew that. Isn't Wikipedia wonderful?
be chic, stay slim — Anne Barone
---
The latest Chic & Slim publication is available
in Print, Kindle, and Kobo
If you need inspiration for a workable organization for your closet — or if you want to get the fat food out of your pantry and stock the slim food — or if you just want to be a lot smarter about everything, you might find ideas in the new Chic & Slim book.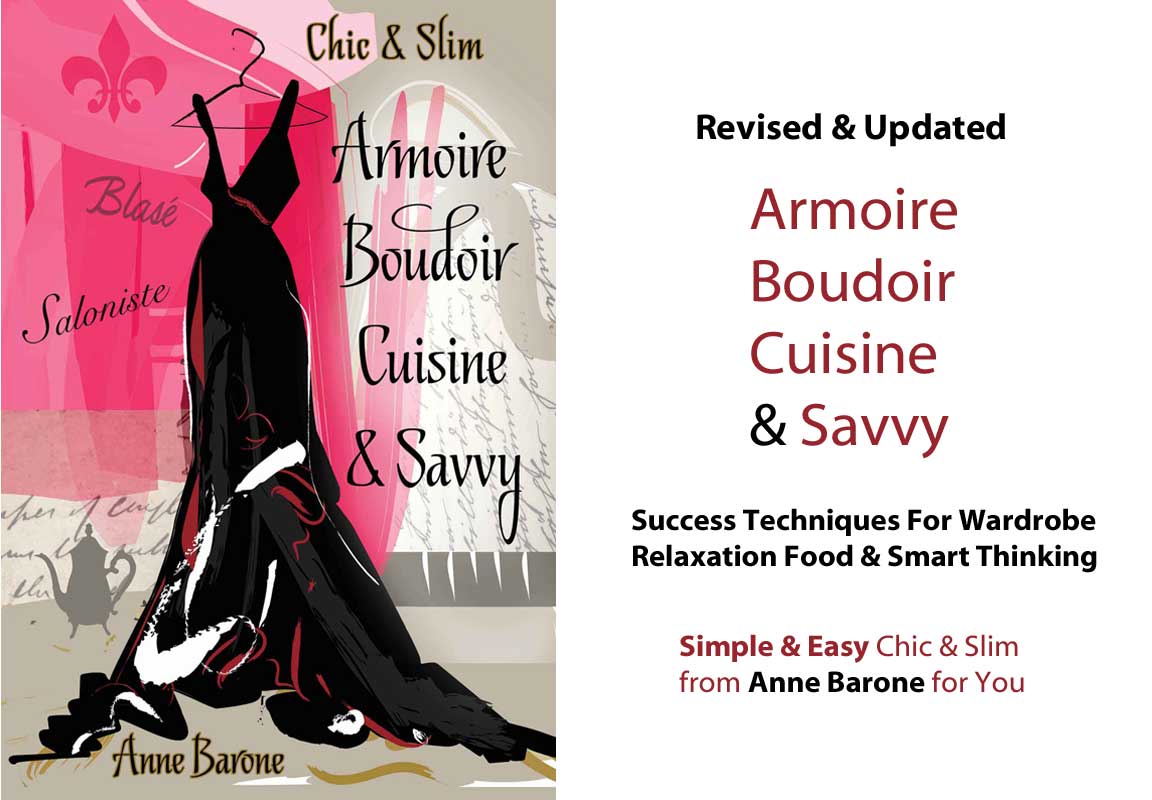 You can read samples of Chic & Slim Armoire Boudoir Cuisine & Savvy at these links: