15 December 2015
Take Heed, Ye Shepherds: Carol
For the last several years I have made a point to discover a Christmas carol I have not heard before. This year 2015, a carol of which I have become very fond is gebt acht, ihr Hirten, Take Heed, Ye Shepherds. For a couple of reasons this carol seems particularly appropriate for the 2015 Christmas season. (About these later.)
And then, of all the characters in the Christmas story, it is with the shepherds that I most identify. In my youth, year after year in the church Christmas pageant, I was cast as a shepherd. Much as I longed for another role, no Sunday School teacher was going to cast a fat, pimply-faced Madonna — or heavenly angel. So there I was, Christmas after Christmas, in a borrowed bathrobe with a dish towel banded on my head, standing with my staff back at the back with the cardboard sheep.
THE COMPOSER of gebt acht, ihr Hirten is the Austrian Johann Michael Haydn, younger brother of the better-known Classical era composer Joseph Haydn.
The YouTube link below is to a recording of gebt acht ihr Hirten performed by the Hassler-Consort with Franz Raml conducting. The soprano is Kerstin Bruns. It is from a 2013 CD Haydn/ Gruber: Christmas Music.
Take heed, pay attention. If you feed the words gebt acht into Google Translate you also get Beware. Yet the carol's melody is joyous. So the carol seems appropriate for the 2015 Christmas season, given the recent terrorist incidents, that when we are out and about that we "take heed." Yet while we are watchful, we nonetheless find the joy of the season. Joyeux Noël.
gebt acht, ihr Hirten on YouTube
be chic, stay slim — Anne Barone
---
10 December 2015
Bûche de Noël - Yule Log
Extraordinary that we are so near Christmas. That we are so near the end of 2015. Our weather is warm enough to leave the doors open so I finally found time for more painting. This afternoon the insides of the bathroom cabinets. With all the new plumbing, I thought a little work on the decor was in order.
I hope all your holiday preparations are going well. Remember if you are doing a lot of baking, try not to do too much "tasting." Especially of cakes and cookies and such. The calories can add up quickly.
The quintessential French Christmas dessert is, of course, Bûche de Noël, the Yule Log. The thin sponge cake cake is rolled and decorated to resemble a log. Flavoring of the cake and the frosting vary widely depending on the choice of the creator.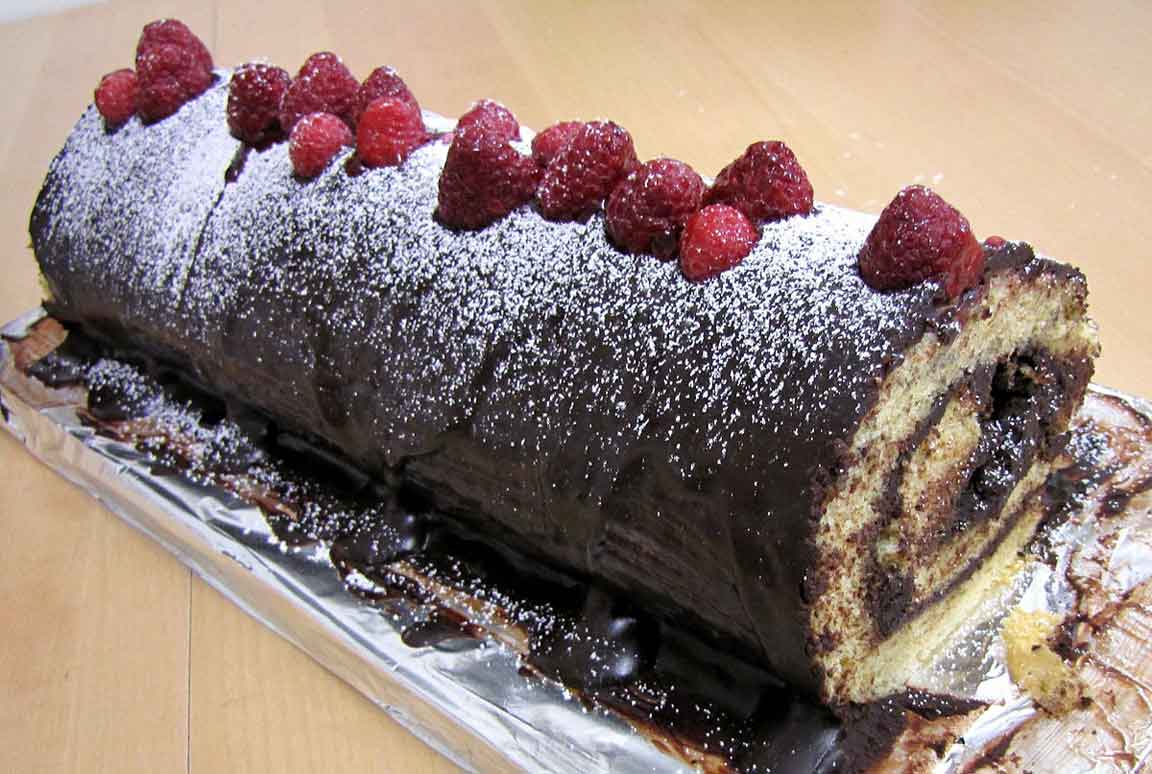 For me Bûche de Noël is one of those French delights best purchased. I have never attempted to make one. I am quite sure that what I would create would not much resemble a log.
But if you are thinking of creating Bûche de Noël and are looking for good instructions — or are simply curious as to how they are made, The New York Times is currently featuring a video showing an expert Bûche de Noël maker creating one. The secret to success seems to be parchment paper.
be chic, stay slim — Anne Barone
image: Bûche de Noël photo by Mathieu MD via Wikipedia