|| 22 October 2015 - Updated 17 January 2016
Sea Breeze Astringent Original
Anne Barone comments on a century-old product with comparison comments about Paula's Choice Gentle Touch Makeup Remover.
A makeup remover used before cleanser VS. a toner or astringent used after a cleanser. Which is better? The answer is easy: the one that works best on Your Face.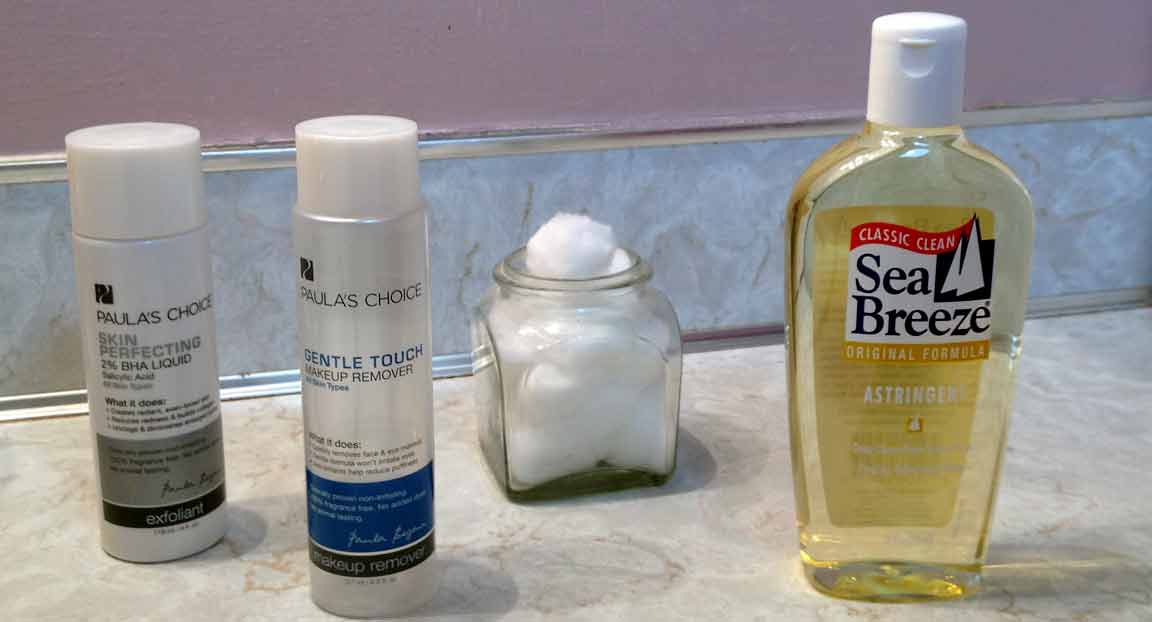 UPDATE: 17 January 2016
Almost healed. I am happy to report that that infected scratch on the side of my nose that gave me such grief from shortly after Thanksgiving until after New Years is almost healed. There is still a tender spot there that looks vulnerable. I am being very careful.
When the area first began infected, I continued to use regular skin care routine, avoiding the infected area. But when the infection was clearly getting worse, not better, I discontinued everything except cleansing with Sea Breeze in the morning (my mother's cleansing routine in certain age) and in the evening I carefully washed my face with Paula's Resist foaming cleanser, and using the prescribed alcohol then antibiotic ointment on the infected area. (From information I have subsequently learned, I probably should have avoided the cleanser with water rinse and only used Sea Breeze in the evening too.)
Surprising Results
In any case, the results of this stripped down routine surprised me. I had resigned myself to breakouts and wrinkles in the effort of healing. Instead my skin was actually clearer with fewer breakouts and clogged pores. My wrinkle quotient was not any higher — or lower — than when I was using products designed to combat them.
Needless to say, I am rethinking my skin care routine.
ORIGINAL POST: 22 October 2015
What brought Sea Breeze to my mind was that I was at the end of a bottle of Paula's Choice Gentle Touch Makeup Remover I had been trying. Even though Paula claims this remover will not irritate your eyes and can be used as an eye makeup remover as well as for whatever else is on your face, my eyes felt dry and uncomfortable after use.
After the second time I applied it to my eye lids, I went back to my regular eye makeup remover and only used the Paula's on the rest of my face. Perhaps I had less than satisfactory experience because I was supposed to shake the Paula's bottle before each use, and I often forgot. In any case, this remover is pricey. $15 for 4.3 fluid ounce bottle. It took a lot of product to remove my makeup satisfactorily — even when I remembered to shake the bottle. Cost per use made this an expensive way to remove makeup — especially since I had to buy an additional eye makeup remover.
So in thinking about what I was going to use next after the Paula's, I thought of Sea Breeze. My mother swore by Sea Breeze and used it for decades to keep her oily skin clear. Because she always stocked up when the discount store put Sea Breeze on sale, it was an economical way for her to have pretty skin.
Paula Begoun does not approve of Sea Breeze. She has a negative review of this astringent on her website. Her chief objection is that it is irritating. And it might well be so for dry, sensitive skin.
But as I said, my mother used Sea Breeze for decades — night and morning — without irritation. At the store when I was about to take a bottle from the shelf, a woman of certain age with beautiful, flawless skin appeared and took a bottle of Sea Breeze from the shelf in that didn't even look where she was reaching manner that people do when they have bought something for years. I have been using Sea Breeze for several weeks with no irritation.
And, sorry, Paula, but Sea Breeze's improvement in my oily skin in clearing up clogged pores and breakouts is better than achieved either by your Skin Perfecting 2% BHA Liquid Salicylic Acid Exfoliant (4 oz. $28) or your Resist BHA 9 Treatment (0.3 oz. $42).
The price of a 10 fluid ounce bottle of Sea Breeze is $4 and I can buy it locally. Sometimes, I guess, Mother does know best.
be chic, stay slim — Anne Barone