|| 13 september 2015
Sphinx ligustri - SAF Yeast - AnneMail
Hints of autumn: Cool almost chilly early morning. A breeze twirling the still-green leaves. Woodsmoke in the air. Summer will soon say au revoir.
Sphinx ligustri
Thursday I showed you a photo (see below in 9 Sept Nouvelles) of that 3 1/2 inch (9 cm) green caterpillar I found munching leaves on my privet. The critter has been has been identified — thanks to my son John who relayed the info from his friend Jeff. Friend Jeff is always able to identify any creature you might find outdoors.
The caterpillar is that of the Privet Hawk Moth (Sphinx ligustri). You can see photos of the moth on its Wikipedia page.
Ann Leslie in New York emailed that the large black butterfly I had reported seeing was likely a Black Swallowtail. It was. Always nice to be able to put names to these interesting creatures I spot in my garden.
SAF Yeasts
I bake all the bread I eat — well 95% of it. But for 100% of the bread I bake, I use SAF yeast made by France's Lesaffre Yeast Corporation. Except for sweet dough or sour dough in which I use the specially-designed SAF Gold, I use SAF Red. The packages for the two varieties of SAF yeast are designated by bands of either red or gold on the package. Red is for general bread baking and a worldwide choice.
When I set out to bake today, I remembered that I had run out of SAF Red. I did have SAF Gold in the freezer. In theory the Gold should work as well or better in regular bread.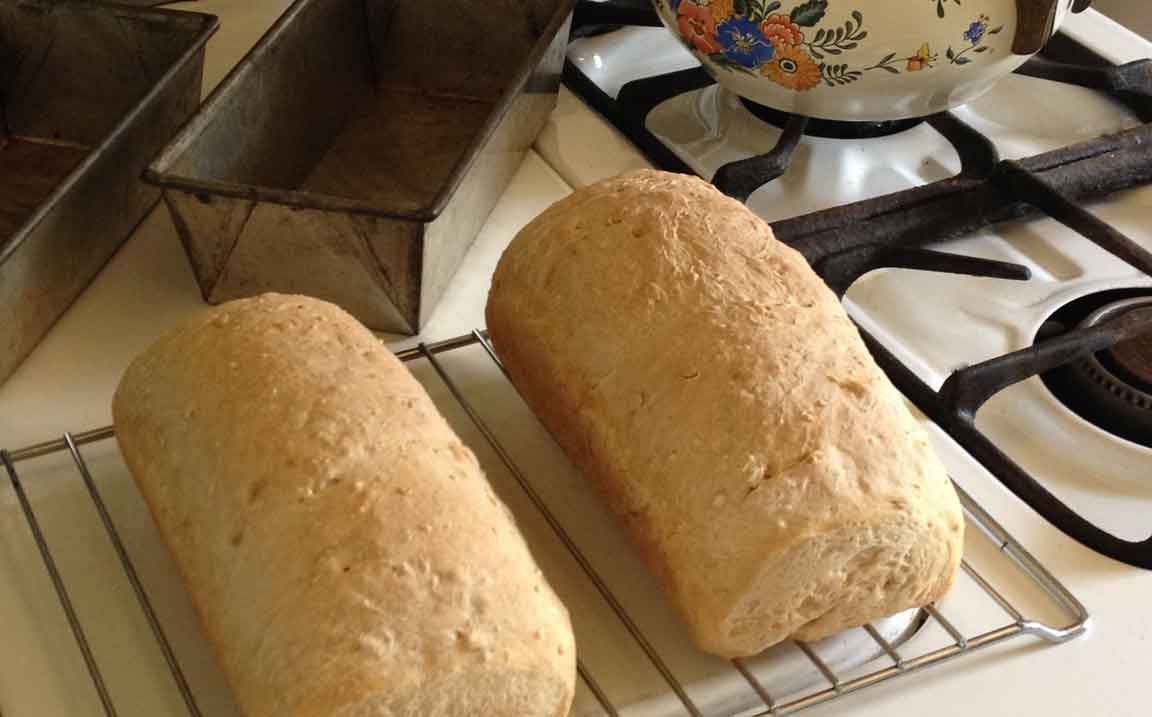 In the photo you see my recipe for Grains Bread (in the recipe section of the latest edition of Chic & Slim Encore). The dough was mixed in the bread machine, but rising was outside the machine. I divided the dough and made two loaves in Aunt Susie's bread pans. These steel pans are at least 60 years old and measure 8 by 4 inches (20 x 10 cm), a little smaller than the bread pans one finds for sale in the USA today. This smaller size is nice for tea breads and for baking bread for chic little sandwiches.
I also made another loaf, this one mixed, raised and baked in the bread machine. Here SAF Gold yeast also performed well — though I did allow the yeast to "proof" in a little water with a pinch of sugar before adding it to the machine just to be on the safe side. (That probably was not necessary.) The flours for this loaf were a mix of buckwheat and wheat flours (1 cup buckwheat to 3 cups wheat).
AnneMail
I am still working on the new AnneMail section for the website. It should be ready soon.
be chic, stay slim — Anne Barone
---
|| 9 september 2015
Caterpillar
Progress. I have accomplished much on my various unfinished projects. Though I have been somewhat impeded by a serious burn onmy arm. And there have been interesting distractions. Look what I found munching on the leaves when I was trimming the privet hedges and shrubs this weekend?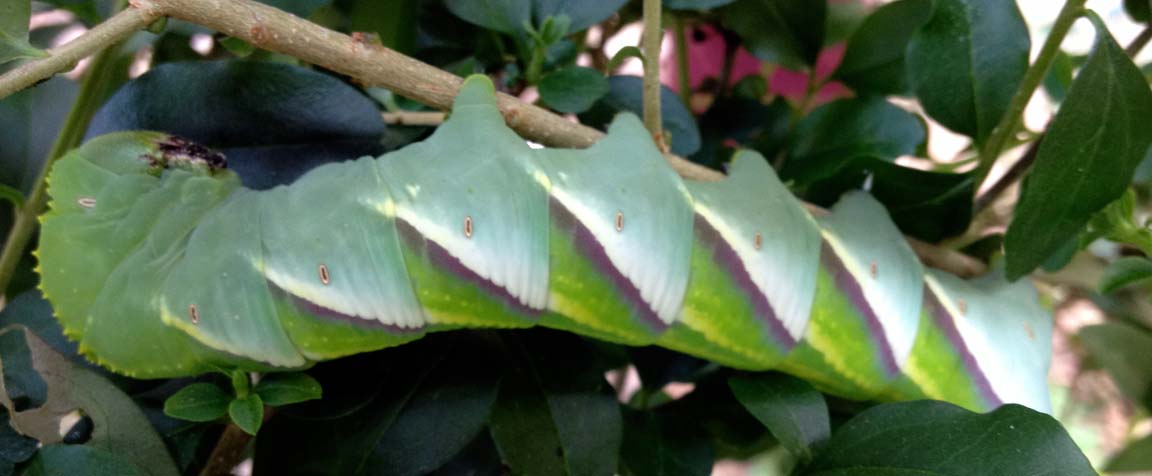 Isn't this caterpillar cute? She (or maybe he) measures 3 1/2 inches (9 cm). I have never seen a caterpillar so large. From time to time I have seen a huge black butterfly flitting around my garden. Perhpas this caterpillar is of that species.
I have interesting email to share with you soon. Perhaps on Sunday — if I can avoid accidents and distractions.
be chic, stay slim — Anne Barone