|| 29 June 2015
Kitchen Organization for Slim
Cleaning out and stocking your pantry for staying chic and slim.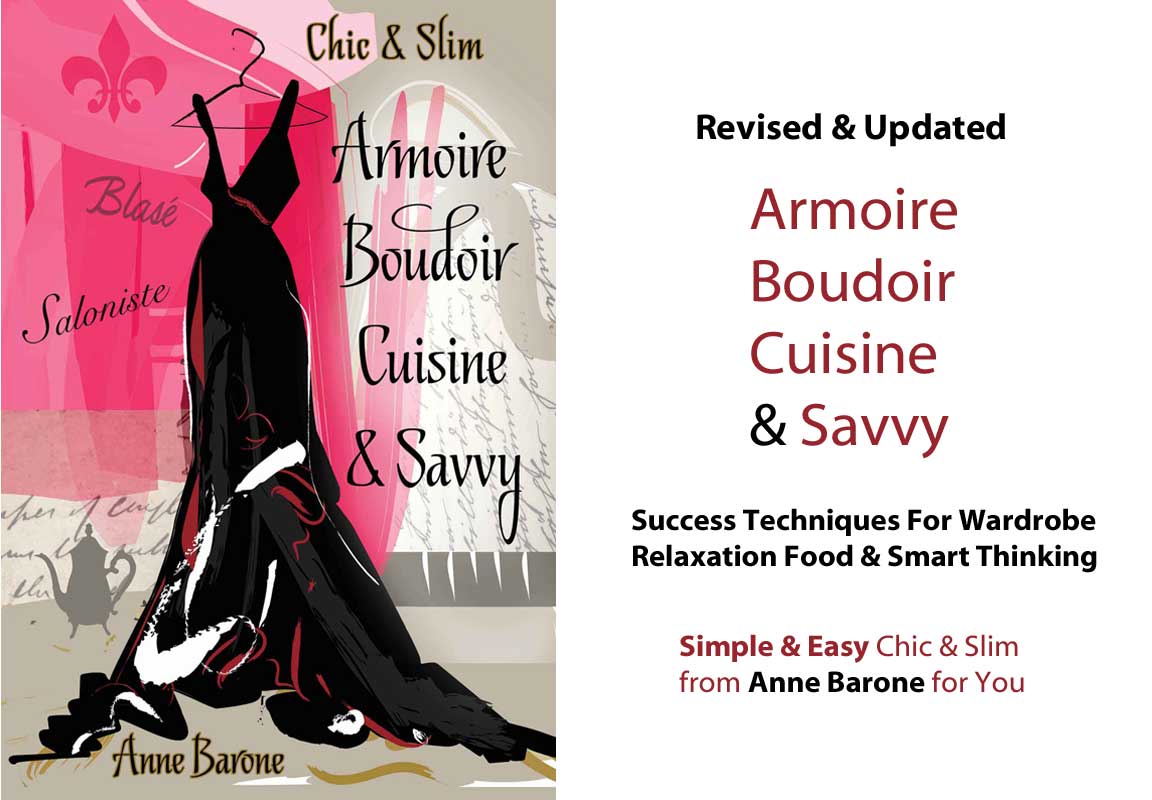 Chic & Slim Armoire Boudoir Cuisine & Savvy aims to help you solve problems. In a recent letter Susan in Hamilton commented that the revised and updated book offers solutions to the kitchen crammed full of food, but nothing to put together for a meal problem. Susan wrote:
The new edition of Chic & Slim Armoire Boudoir Cuisine & Savvy arrived 2 days ago and I read it in one day! Now, I am going back to re-read sections. It is just what was needed to motivate and inspire me to get back on track.
The chapter on cuisine resonated with me, particularly since we live within 5 minutes of 3 large grocery stores. I find myself stopping to pick up a few items, only to leave with a shopping cart full of featured sale items. This has been happening several times a week! Not only am I wasting money on "sales," we now have a kitchen crammed full of food, without rhyme or reason. The result is lots of food, but nothing to put together for a meal. Much food ends up getting thrown out at the end of the week which I feel bad about.
Costco and Sam's Club memberships add to the problem. Although they offer lower prices on paper products, husband's vitamins, books and personal care, it is too tempting to "stock up" on items packaged in large sizes. Again, lots of money and food is wasted in the long run. Your chapter has made me conscious of this, and I'm going to make an effort to shop more mindfully.
AnneNote: I like Susan's phrase "shop more mindfully." Certainly for some items it makes sense to buy in quantity. Assuming you have a place to store the quantity — and that you are actually going to use the stuff before it spoils or deteriorates — or before you find a brand that works better for you. (Another reason many items are discarded unused.) On the other hand, constantly running out of a needed item and having to dash to the store wastes your time and money.
So shop more mindfully.
From the ABC&S Chic & Slim Cuisine chapter Kitchen Organization for Chic & Slim
Chic French women shop daily or almost-daily for food that will be consumed at meals that day or the next. They do not keep large quantities of food on hand. Little food is available for snacking. || Americans buy more food than their household could possibly consume. Much of this excess is high-calorie convenience food whose overconsumption contributes to excess weight and even obesity. || This Cuisine chapter guides you in reducing the amount of food you keep on hand, especially junk food that can make you fat and unhealthy. Then, it guides you in designing a Slim Pantry to keep you chic and slim and healthy.
Organizing your kitchen and pantry for Chic & Slim involves two steps.
First, this chapter offers a plan for reducing excess food and undesirable food, both likely to make or keep you overweight. This is the Clean Out for Slim step. Second, this technique gives you a suggested list of foods from which you can design your own Slim Pantry. This is the Stock for Slim step.
Eating is not like smoking, or any number of other unhealthy habits. You cannot just quit.
You must eat to stay alive. You must eat healthy foods in a reasonable, moderate manner to stay healthy and slim. Somewhere between the very healthy, but devoid of pleasure eating regimes advised by ultranutritionists and, at the other extreme, a junk and fast food dependence, there is a sensible, moderate way of eating that gives both a slim, healthy body and eating pleasure. What you have and do not have in your cupboard and refrigerator can make a huge difference in how easily you stay slim.
Excerpt from Chic & Slim Armoire Boudoir Cuisine & Savvy
---
Armoire Boudoir Cuisine & Savvy
If you need inspiration for a workable organization for your closet — or if you want to get the fat food out of your pantry and stock the slim food — or if you just want to be a lot smarter about everything, you might find ideas in the new Chic & Slim book.
You can read samples of Chic & Slim Armoire Boudoir Cuisine & Savvy at these links: