|| 16 July 2015
Anne & Kiri Need Boudoir Time
Boudoirs Are A Good Place For People and Pets To De-stress
Yesterday afternoon Kiri, my pastel calico, and I required some serious boudoir time. We both needed de-stressing from our morning spent in that event too well-known to cat owners: the annual vaccinations.
Like many cats, Kiri does not like excursions that involve being put in a pet carrier — since those trips in a carrier invariably include being stuck with needles.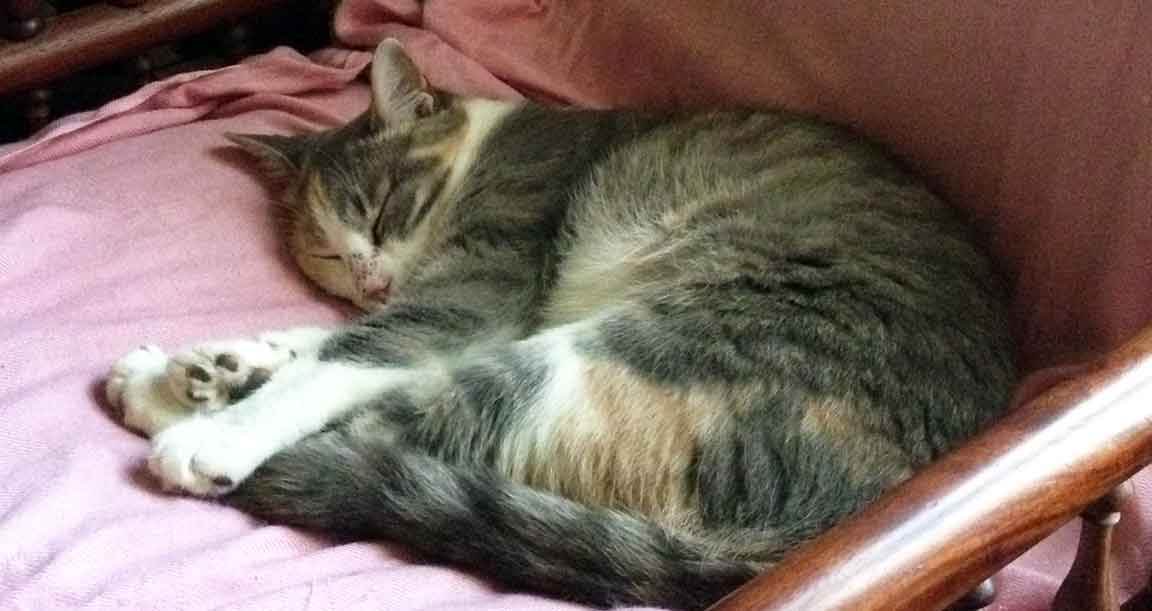 This year was particularly stressful because the outdoor clinic held by a Dallas vet who four times a year brings his well-organized traveling vaccination clinic to town was cancelled just before Kiri's vaccinations expired.
Since the newspaper had reported confirmed rabies in the city, this was no year to delay updating the vaccinations. We settled on the P.E.T.S vaccination clinic, only to arrive to find not only the usual clinic patrons, but those numerous pet owners who, like me, had customarily used the traveling vaccination clinic and who had concerns about the rabies. In any case, most, it seems, with very large, very LOUD barking dogs — as well as a considerable number of smaller energetically yapping ones. The small room packed with people and their pets was an deafening echo chamber of canine cacophony. Kiri and I, accustomed to only Classical music and the song of birds as our background audio, almost went into shock as soon as we entered.
But there was no retreat. Having wrangled Kiri into her carrier and then exposed her to this place, if I took her home without getting her shots, it would be months before I got her into a carrier again. Miserable as we were, we had to stick it out.
The P.E.T.S operation is run by volunteers who were overwhelmed by the unusually large number of animals brought to the clinic. They were doing their best, but there was much confusion. It was a very l-o-n-g time before Kiri's turn for shots came — and more time until I finally persuaded a young man to take our money and give us the rabies tag and certificate so we could go home.
Once home, Kiri and I desperately needed some quiet time. (I was tired and my ears were still ringing from the barking.) But amazing how restorative a special place arranged with special items that help you de-stress and feel re-energized can be.
You don't need a dedicated room for your boudoir or your boudoir space. You will find lots of good ideas for organizing a small or part-time area in the revised and updated Chic & Slim Armoire Boudoir Cuisine & Savvy. And if you have kitties or dogs or other pets, it is nice to have a place in your boudoir to accommodate them too. Sometimes our pets need to de-stress as much as we do.
be chic, stay slim — Anne Barone
image: Kiri napping in boudoir chair