|| 9 July 2015
My New Compost Pail
Anne Delights in her new kitchen accessory
For more than a decade I have maintained a compost bin. But one does not run out to the backyard every time one peels an onion. You need something in the kitchen to collect enough to make a trip to the compost bin worthwhile — especially if there is snow on the ground. Or if the temperature is 110 degrees F.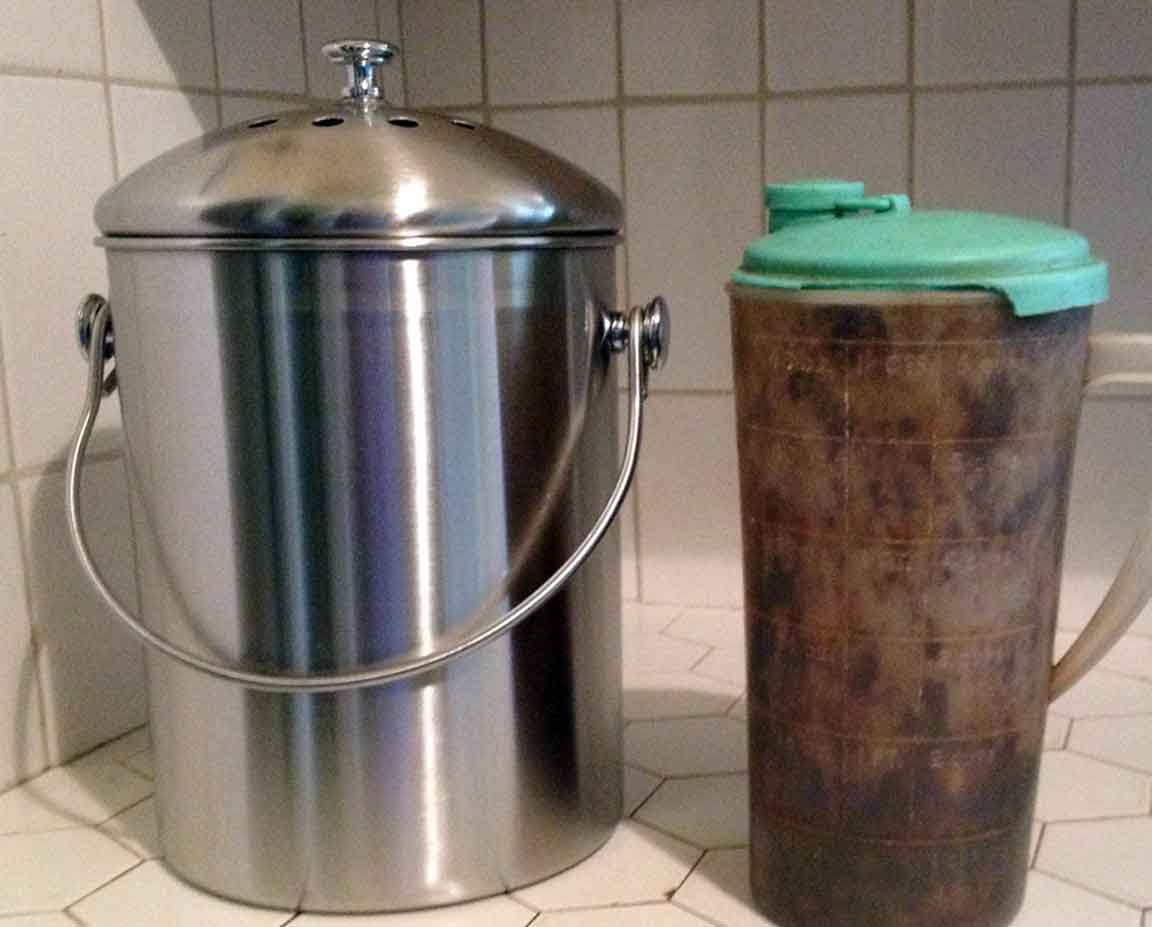 When I began to restore this early 20th century property my mantra was Reuse, Recycle, Restore. When I found a left-by-previous-owner 1 1/2 quart plastic container with lid and handle in the back of the kitchen cupboard, I decided it was the perfect replacement for the empty yogurt container I had been using to collect the grapefruit rinds and eggshells and used tea leaves.
But that was more than six years ago.
Several weeks ago I had to admit that six years of beginning to rot substances in that old plastic container had rendered it unacceptable — even when kept hidden in the cupboard under the kitchen sink.
Time for a real countertop compost pail.
I love my new Epica 1 gallon stainless steel compost pail. (I call it a pail, but the company lists it as a "bin" on Amazon.) The compost pail looks great conveniently located on the countertop and is a practical size for someone like me who prepares a lot of fresh produce in her cooking. The charcoal filter in the lid also makes sense when I am making fewer trips to the backyard compost bin.
I know, I know. I could make do reusing old plastic yogurt containers for my compost collection. But a bit of elegance makes things much more pleasant. Keep the elegance-pleasure connection in mind if you are struggling to eat healthier. Food will look and taste better eaten from a pretty real plate than from a throw-away foam container.
be chic, stay slim — Anne Barone
image: new stainless steel compost pail and retired plastic pail